Bio4Food
It is generally accepted that the wide-scale use of persistent synthetic pesticides in agriculture is a major risk to biodiversity and the environment. In addition, the public view pesticides as problematic and seeks pesticide-free products. Addressing these concerns poses an important challenge for farmers to find a sustainable balance between "environmentally-friendly" and "profitable" crop production. To match the concerns of the farmers and consumers, we need to create innovative solutions to secure crop yield, minimize food and crop wastes, and produce vegetables and fruits with health-promoting properties.
The Bio4Food project addresses these three problems following a strategy of crop waste valorization. We propose taking advantage of the presence of secondary metabolites, including natural defense molecules in crop wastes generated at the farm and the food-processing factory, and transforming these into new types of biostimulants and biopesticides.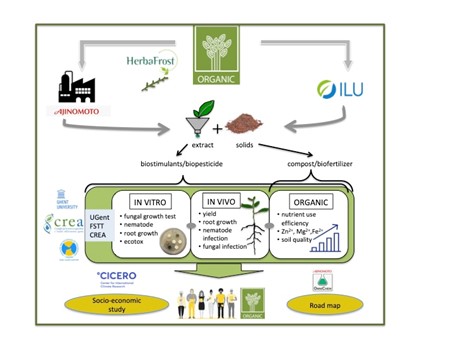 Bio4Food will exploit the biostimulatory properties to promote plant yield and quality, aiming to increase the content of the health-promoting minerals, iron, magnesium, and zinc, in vegetable and fruit crops. The socio-economic acceptance of our approach and the market opportunities will be studied to develop a road map for implementing a bio-based methodology for crop production and protection. The possibility of recycling waste will be evaluated at the farm level up to the food processing industry, taking into account the profitability of the technology. This way, Bio4Food will contribute to reducing crop waste, providing natural plant protection products, and offering consumers vegetables rich in health-promoting minerals.